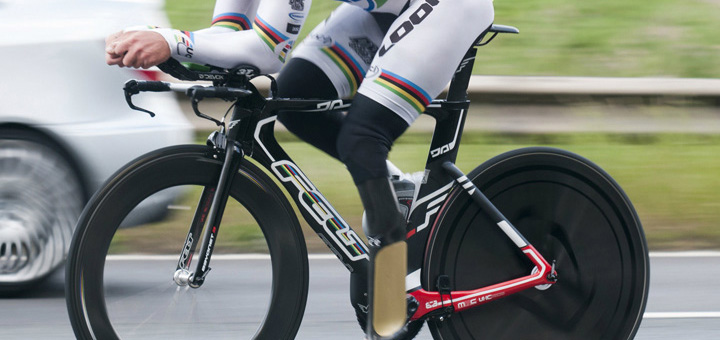 Prosthetics: striving for a perfect design - and sporting excellence
---

Meet the expert..
Bryce Dyer
The Research
With the focus on the London 2012 Olympic and Paralympic Games, academic Bryce Dyer put BU firmly in the sporting spotlight with his cutting edge research into prosthetics for competitive sportsmen and women.
Bryce - a practicing masters international athlete, as well as a Senior Lecturer in Product Design at the School of Design, Engineering and Computing- his recent work in the run-up to the Paralympics has involved investigating carbon fibre 'Energy-Return' lower limb prosthesis technology. He has looked extensively at how elite sprinters with artificial limbs, or so called 'blades' are used in competitive events and that while technology must be embraced in allowing disabled athletes to reach their true potential, they must still compete on a level playing field. Such has been its importance, in the past Dyer has been part of a sport technology working group which discusses and drafts legislation.
Bryce was part of a team that helped create a prosthetic limb for Irish Paralympic cyclist Colin Lynch who had instant success with it winning gold at the at the 2012 Union Cycliste Internationale (UCI) Para-Cycling Track World Championships in Los Angeles.
But the use of prosthetics to enhance sporting performance is just one strand of Bryce's research. He is part of a larger research centre that is studying ways of improving prosthetic limb design for amputees from all walks of life. At the heart of the new design is the so-called 'smart socket' a lower limb prosthetic which can adjust itself to fit the changing shape of the limb it connects with.
The Academic
Approximately one in every 1,000 people in the UK is an amputee and for some, losing the limb is a loss of freedom. What's more fitting a false limb is currently a bit of a black art as current technology is not as measurable as it could be such as allowing for changes in volume when patients' feet swell or change shape for example. It's a bit like having your feet change size on a daily basis and expecting your shoes to still fit comfortably. The 'smart socket' is very much at the research and development stage, but what this will mean is that in time, prosthetists will be get a fit for an amputee right first time and that could be a huge bonus for amputee soldiers wishing to return to active duty. The work with Colin has been extremely rewarding too. As a competitive cyclist myself I know the margins in paracycling are tenths of seconds. There are other athletes that use cycling prosthesis, but I just wanted to give him something that gave him the best possible chance of success.
Bryce Dyer. Senior Lecturer in Product Design
The Impact
It was a privilege to work with Pace Rehabilitation and to have the expertise of Bryce Dyer in the design and production of this cycling leg. It was a massive leap forward from the first leg that Pace made for me last year. Using Bryce's expertise in aerodynamics, we were able to make a leg that both increased my power output and reduced wind resistance. The folks at Pace made sure it was as light as possible. The final product shaved precious seconds off my previous personal best times and helped power me to my World Championship win. I'm looking forward to much more success with it over the coming months and in the Paralympics in London. Thanks to both Bryce and Pace for their help and dedication to making it the best it could be.
Colin Lynch, Paralympian cyclist