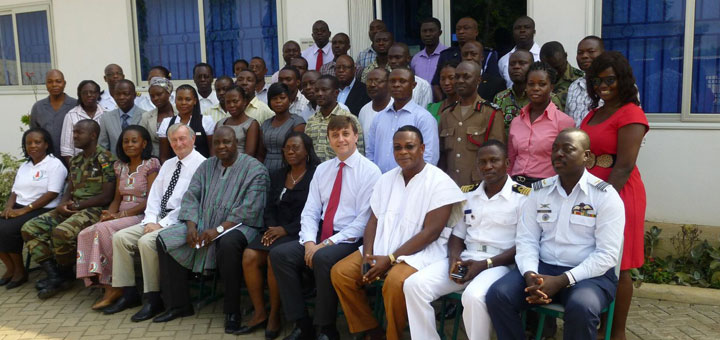 How BU's expertise helped with a Ghanaian air disaster
---

Meet the expert..
Richard Gordon
The Project
Bournemouth University's Disaster Management Centre (BUDMC) has garnered decades of experience in education, research and professional practice. It lists governments, international aid agencies and multi-national businesses among its clientele, and prides itself on the practical, applicable nature of the research, consultancy and training that it delivers. However, the findings from one training programme in Ghana were put into action in a timescale that even the most seasoned of experts could not have foreseen.
The exercise in question simulated a plane crash at Accra airport, and was designed to ensure the various organisations associated with disaster management were primed to respond to an emergency in a quick, safe and co-ordinated fashion. This included the airport authorities, the police, the fire services, the military, local government and international embassies amongst others. After a successful training programme and de-brief, the value that BUDMC adds to disaster management preparations was demonstrated in dramatic fashion just a week later.
In heavy rain and poor visibility, a Boeing 727-200 crashed as it attempted to land, breaking through a perimeter fence and colliding with a packed minibus. In total, 12 people lost their lives, the deadliest accident in Ghanaian aviation history. However, it is a figure that would undoubtedly have been higher but for the swift response from the airport authorities, who were able to co-ordinate an heroically swift response from a variety of agencies to prevent an ever bigger tragedy.
BUDMC's role in preparing the Accra authorities for such an eventuality drew praise from Ghana's President and the National Disaster Management Organisation (NADMO), with the team's advice being described as 'invaluable' by NADMO's Head of Research.
Little wonder, then, that BUDMC enjoys a global reputation for disaster management. That's why the centre (along with BU's International Centre for Tourism & Hospitality Research) has been selected by the United Nations World Tourism Organisation (UNTWO) to undertake vital research into global disaster management. While those findings will help agencies the world over to plan for the worst, one thing seems certain: few will ever have to put BUDMC's advice into action quite as quickly as the brave souls who raced into action at Accra airport.
The Academic
'It seems impossible to believe that we could run an air accident exercise just a week before a real incident occurs in almost exactly the same place, but aside from what was an incredible coincidence, what this dramatic story also illustrates is just how invaluable and vital the work of the BUDMC is.
It has been an incredibly busy year for the centre and one in which we have seen an exciting growth in the development of national and regional disaster management planning in many parts of the world.
Over the past months we have travelled to a variety of countries, working either at the invitation of the government itself, through its disaster management agency or Ministry of Defence, or initiated and sponsored by British Defence Attaches through their UK embassies.
Representatives from overseas have also visited the UK and we have had the privilege of taking senior executives to visit agencies and organisations here to demonstrate British best practice in emergency management planning and response.
The centre continues to train FCO (Overseas Territories) Governors and their Deputies and Staff Officers for postings to the Caribbean, now an established requirement for all FCO postings there.
Richard Gordon, Director BUDMC
The Student
As part of my degree at BU I spent my 3rd year on placement at the Bournemouth University Disaster Management Centre. I was extremely fortunate to be able to work closely with the Director, Richard Gordon, who is not only a leading figure in the international disaster management community, but also an inspirational mentor.
Having worked abroad in tourism for a number of years, I am passionate about how disaster management integrates with the industry and how to improve the training aspect of managing disasters. As the BUDMC provides international training courses I had the opportunity to attend those held in the UK.
The Centre had been commissioned by the United Nations World Tourism Organisation to conduct a major piece of research into the integration and collaboration of disaster management between the travel and tourism industry, and the public sector. During my time there, part of my work involved creating an international database and researching case studies for this project. This gave me wonderful opportunities to network with senior managers in the industry, which was extremely useful for my final year dissertation and my future employment prospects.
Jennifer Lansdowne, BA (Hons) Tourism Management
The Impact
With the reputation Bournemouth University has around the world for its work in disaster management and response, we had no hesitation in asking them to provide us with the kind of training necessary to respond effectively to any emergency.
Little did we imagine that we would be putting all we had learned into practice just a week later when we experienced an aircraft crash involving an Allied Air Cargo plane at the Kotoka International Airport in Accra. Fortunately, with the training still very much fresh in our minds, our response was speedy, coordinated and hugely effective.
When the President of our country was briefed on the emergency by our National Co-ordinator for Disaster Management, I was delighted to learn he was informed that BUDMC had prepared the National Disaster Management Organization and stakeholders for such an eventuality. It is only right and proper that the role of the centre be recognised in this way and the impact they have had on our planning and response to emergencies. Your help has been invaluable.
Dr. Kingsford Asamoah (Head of Research) National Disaster Management Organization (NADMO) Ghana