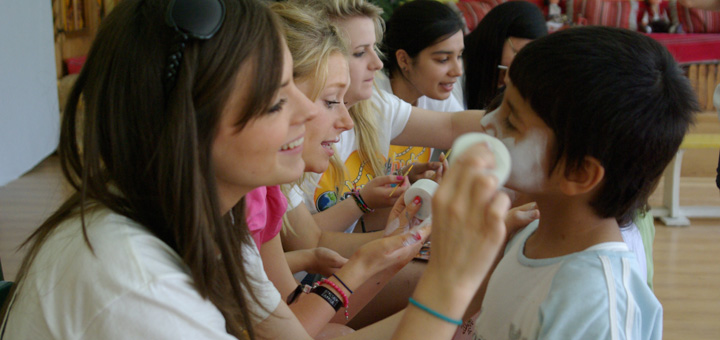 SUBU brings hope to orphans through volunteer work
---

Meet the student..
Olivia Easton
The Project
Giving back to the community – whether it is here or abroad – is a facet of university life that BU takes great pride in. For the past three years students from Bournemouth University have made the trip to Bulgaria in partnership with Gapforce hoping to make a real difference to the lives of some very special children.
In June 2012, volunteers from the Students' Union at Bournemouth University (SUBU) went to the town of Rousse in north Bulgaria to work at Hope Orphanage, helping with renovation work and spending some quality time with the children. Such was their commitment, the students successfully raised more than £7,500 to fund the trip.
Hope Orphanage currently houses approximately 75 children all aged between three and seven years old. The volunteers were able to play and interact with the children and offer activities such as face painting and making Chinese paper decorations.
But it wasn't all play. The volunteers renovated the gym by plastering and repainting the walls. They were also able to help financially by purchasing toys for the children to play with and clothes for them to wear.
Volunteering is a new concept in Bulgaria. The average local person doesn't have the resources to help someone else in their community, which is why the help the volunteers provided was so valuable.
SUBU knows that the children at the orphanage need all the help, support, love and care they can get - and there is little doubt that the volunteers were able to make a real impact on their lives.
The Student
I took part in thehub goes global in 2011 and it was one of the most amazing experiences I have ever had. It was a challenge both physically and emotionally but I learnt a lot about myself as a person, met some incredible people and spent time with the Bulgarian orphans, whilst trying to improve their living conditions as much as possible. Thank you to thehub for making this all possible!
Olivia Easton
The Impact
Words cannot express how grateful we are at Hope Orphanage for the continuous help and support of Bournemouth university and I would like to thank the Bournemouth University Students on behalf of Hope Orphanage and the children for all they have done so far and continue to do to make the orphanage a better place for the children and to bring happiness and smiles to their faces.
It is admirable that students are coming to volunteer and help us every year. Volunteering is a concept very new to Bulgaria and we are very happy that it is happening at our orphanage. All the students we have met so far have been driven, incredibly hard working and such a positive influence to the children. They are still talking of their faces being painted and keep on asking when you are going to come back to do it again!
Having the Bournemouth University students also is very beneficial for the children – it makes them more sociably comfortable and aware, they learn new skills and language too! The students make a massive impression and impact on the children and they keep on talking about their new friends from England for months on end. We are very happy and fortunate to be part of the Bournemouth University wonderful project!
Mrs Yordanova, Head Mistress of Hope Orphanage, Rousse, Bulgaria