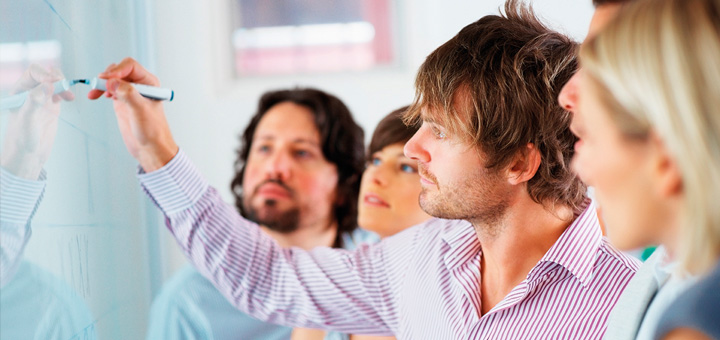 Collaborative research that has transformed leadership skills
---

Meet the expert..
Professor Keith Brown
The Research
Research that has helped shape the future of social work and informed Government policy at the highest level, Professor Keith Brown's ground-breaking report into effective leadership is a prime example of how BU works collaboratively and cross sector.
Professor Brown has shared his expertise, and that of BU's Centre for Post-Qualifying Social Work, to come up with a blueprint for effective leadership, across both social work and social care.
Entitled 'Leadership and Management Development for Social Work and Social Care: Creating Leadership Pathways of Progress', his report has provided the first framework for establishing an effective leadership and management pathway in social care and social work, as well as shown evidence of positive impacts made by authorities who have piloted the leadership module within the pathway.
Co-authored by Jane Holroyd MBE on behalf of Learn to Care, the body that represents workforce development managers from all local authorities in England, the new framework has been developed over an 18 month period that has involved rigorous testing and piloting by key local authorities.
At the heart of this is a new underpinning theory and approach known as Self-Leadership, which critically emphasises the quality of thinking and developing the ability to manage oneself as part of improving personal and organisational performance. Researchers say this Self-Leadership model is applicable to all professions, whatever their managerial positions.
An evaluation strategy was also developed and used to measure and quantify the scale and significance of the change within the whole organisation and led to employers seeing real and significant return on investment.
Professor Brown also advised the Department of Health in the drafting of the Mental Health Act.
The Academic
We need a coherent and effective programme of leadership development for managers which can demonstrate, through appropriate assessment systems, that their behaviour has changed and that these changes are having a positive impact in practice.
All too often, organisations have sent a few managers on a leadership programme but it hasn't produced whole organisational change. These programmes haven't been about looking at the leadership strategies within the business of social work and social care. They have been generalist management programmes. There is an urgent need for leadership and managerial programmes which are designed to support leaders in social work/care to deliver effective, safe and robust services to the most vulnerable in our society.
Professor Keith Brown Director of the Centre for Post-Qualifying Social Work
The Student
I would highly recommend people studying at Bournemouth University's Centre for Post Qualifying Social Work. When people first engage in their practice when they qualify, they obviously go through a period of consolidation, but over time people need to keep up their CPD [Continuing Professional Development]. The course has made a tremendous difference, really helping me to progress my career. I feel like I have become a much more competent person and that I am more creative and open about expressing my views.
I have also learnt a lot about myself during the course because it was very challenging working full-time and studying part-time. You really learn to tap into your resilience. We do work in a very complex environment, the pace of change is very quick and people do need to develop skills in reflective practice, and skills in, for example, management and leadership.
Also, it can really help people to have that time and space away from their workplace, to work with other colleagues on their course, and also then to directly relate what they're doing on the course to their professional practice. Whether it's the person doing the course, the organisation, or the people that access the services – everyone benefits from a course like this.
Deborah Howard, Acting Associate Director at Dorset Healthcare University NHS Foundation Trust
The Impact
This framework is enormously important for the future of long term care in the UK and reputationally for Bournemouth University it is an incredibly important breakthrough. With respect to the majority of the strategies that social work/care employers utilise for their staff, including leadership development, what we are currently doing with social work and social care training is teaching without testing, and training without measuring the impact. What Professor Brown and his colleagues are doing is to be commended and the University needs to herald what an amazing asset it is to have this Centre within the University infrastructure.
Conor Burns, MP for Bournemouth West